Winter Thrills!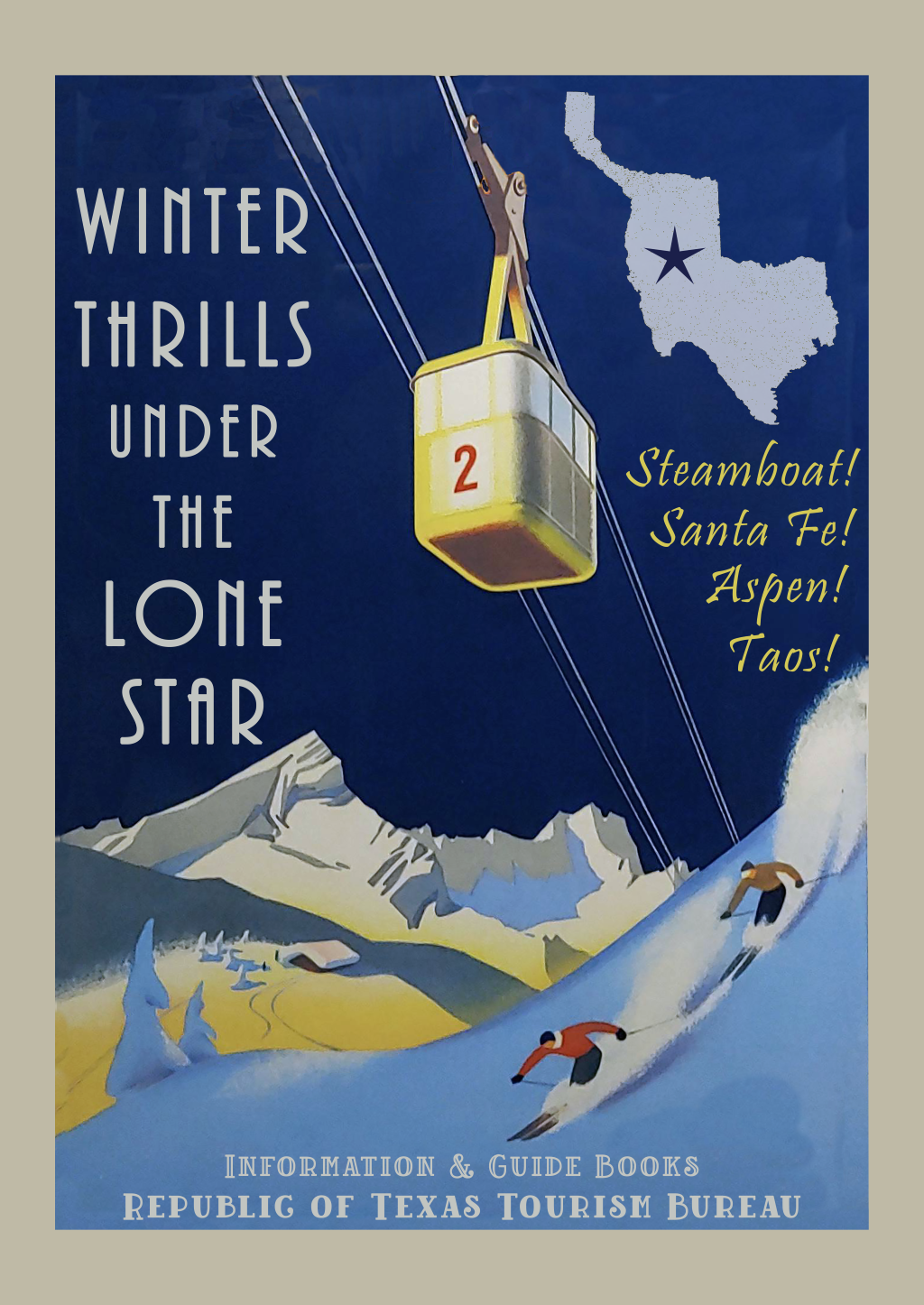 Every time we post a map showing the Republic of Texas with its original borders, someone (sometimes several someones) will respond with, "Ski Texas!"


We surely gave up more than we knew in the Compromise of 1850. Who would have guessed that Santa Fe County and the old "stovepipe" panhandle encompassed lands that would become some of the finest ski resorts in the world?


We decided to indulge our imaginations and play the "what if" game.


What if Texas had remained a republic? What if she stayed independent and found the capital to build ports and railroads? What if she prospered and grew?


What would you say to that? Ski Texas!

This Print


This print, titled Winter Thrills, is what we imagine the Republic of Texas Tourism Bureau would have put out in the mid to late 1930s. Are you ready to go?


Ski Texas!

69.95 49.95
17 by 24 inches
Handsome vintage graphics
Vivid colors
This is a high quality fine-art print.

The stock is acid free, heavyweight fine-art paper with an elegant ever so lightly textured finish. This surface allows the inks to 'bite', reproducing the shading and tonality of the original map vividly, beautifully, and exactly.

The inks are guaranteed color-fast for 80 years, which means you won't need to lay out the extra money for UV glass. You can hang your map in direct sun and it will be just as bright when they are passed on to the next generation it is the day it ships.

It's an instant heirloom. Get yours before they're gone...and get one to give to a friend. He'll owe you!


Shipping is $5 for this item.
Ships within 3 business days.
Ships in a sturdy tube.
Guarantee: If you don't love it, we will buy it back. No time limit.