...and I will go to Texas!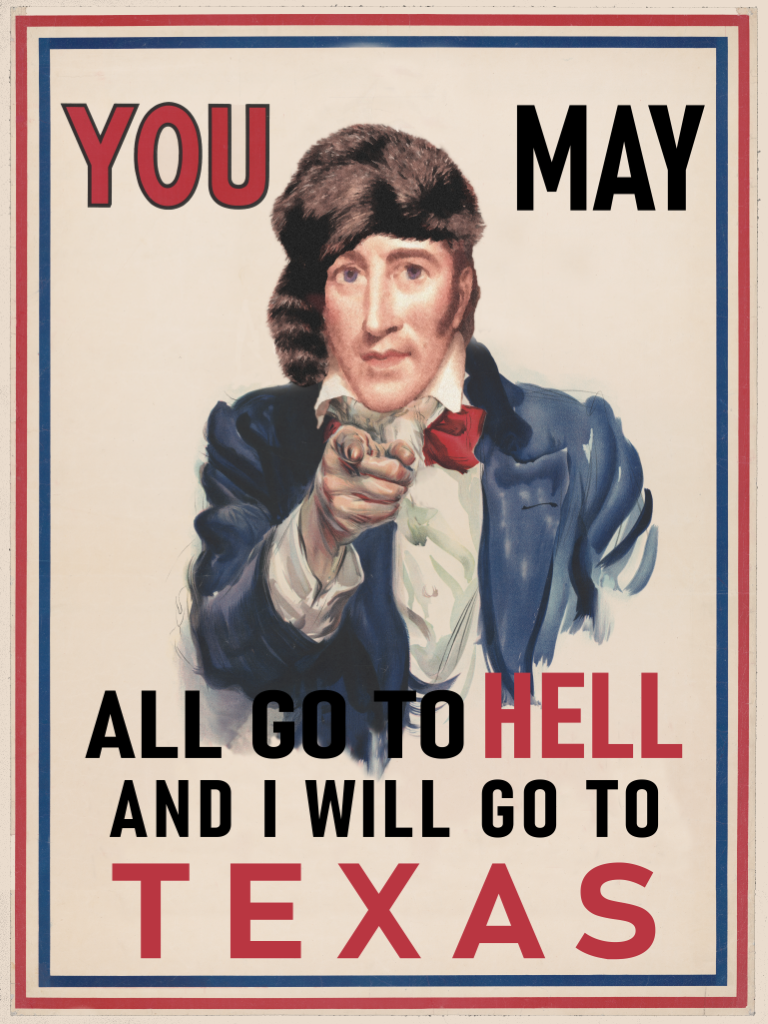 You know the story.

When David Crockett (he preferred David to Davy) lost his reelection bid in 1835, he said to the voters of his district:

"Since you have chosen to elect a man with a timber toe to succeed me, you may all go to hell and I will go to Texas."


It's one of our favorite Texas quotes, and from what we hear, it's probably one of yours too.

So we got to thinking... what would that look like as a poster?


The thing that jumped into my head was James Montgomery Flagg's iconic World War I recruiting poster of Uncle Sam. That pointing finger sure reinforces the message.


Colonel Crockett's visage is from his 1831 portrait by Samuel Stillman Osgood. Of it Crockett said, "I am happy to acknowledge that this to be the only correct likeness that has ever been taken of me."


The coonskin cap? We took that right off Fess Parker.


I'm tickled with how it came together. And with as much as I've read about David Crockett and his ways, I think he would be too.


69.95 49.95
18 by 24 inches
Fits in a standard sized frame
Handsome vintage graphics
Vivid colors
Hard-hitting message
This is a high quality fine-art print.

The stock is acid free, heavyweight fine-art paper with an elegant ever so lightly textured finish. This surface allows the inks to 'bite', reproducing the shading and tonality of the original map vividly, beautifully, and exactly.

The inks are guaranteed color-fast for 80 years, which means you won't need to lay out the extra money for UV glass. You can hang your map in direct sun and it will be just as bright when they are passed on to the next generation it is the day it ships.

It's an instant heirloom. Get yours before they're gone...and get one to give to a friend. He'll owe you!


Shipping is $5 for this item.
Ships within 3 business days.
Ships in a sturdy tube.
Guarantee: If you don't love it, we will buy it back. No time limit.