Battleship Texas - 1898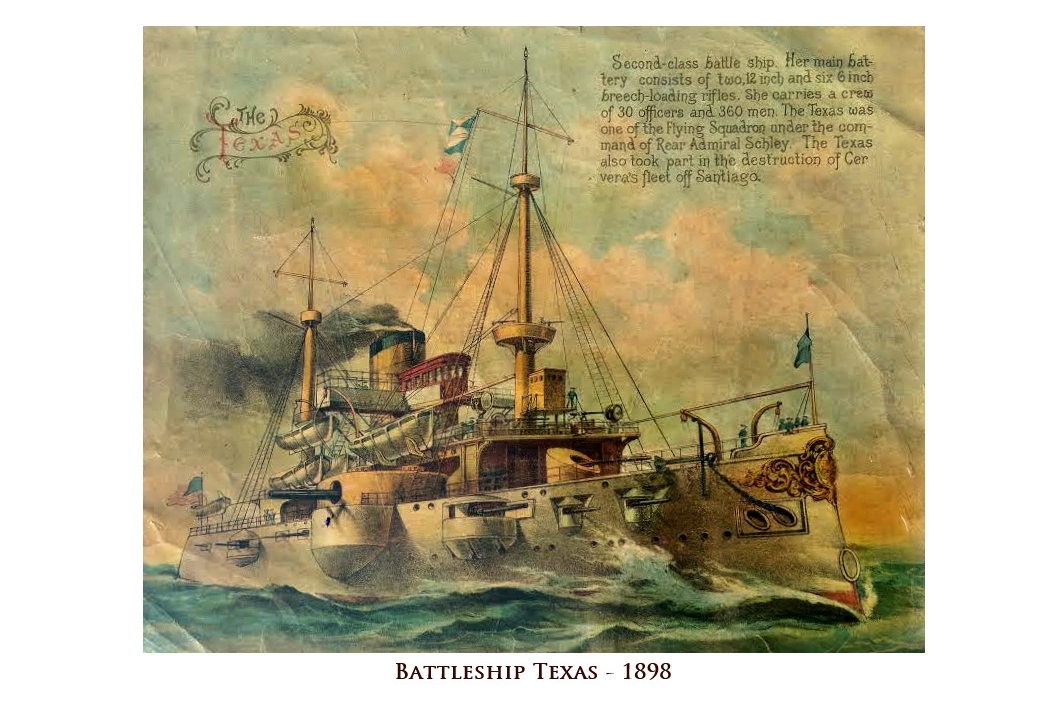 The original Battleship Texas was built in 1892 (twenty years before the ship that is now at San Jacinto.)

After her sister ship, the Maine, was sunk in Havana harbor, she was sent to Cuba. There she supported the Marine landings at Guantanamo Bay, which has been in American hands ever since.

Six weeks later, on July 3, 1898, the Texas and the rest of the Flying Squadron, destroyed the Spanish fleet off Santiago de Cuba. The Texas was the first to enter the fray, firing on four of the Spanish vessels at once.


About the print: the image was one of a series of six chromolithographs produced in 1898 to show the American people the battleships of their victorious navy.

This is the first time it has ever been reproduced and it's as handsome as it is interesting.
24 by 18 inches
Limited Edition of 254 Copies
Each one is hand-numbered
This is a high quality giclee print.

The paper is acid free, cold press cotton watercolor with an elegant ever so lightly textured finish. This surface allows the inks to 'bite', reproducing the shading and tonality of the original map vividly, beautifully, and exactly.

The inks are guaranteed color-fast for 80 years, which means you won't need to lay out the extra money for UV glass. You can hang your map in direct sun and it will be just as bright when they are passed on to the next generation it is the day it ships.

It's an instant heirloom. Get yours before they're gone...and get one to give to a friend. He'll owe you!


Shipping is $5 for this item.
Allow two weeks for delivery.
Ships in a sturdy tube.
Guarantee: If you don't love it, we will buy it back. No time limit.