Houston in 1873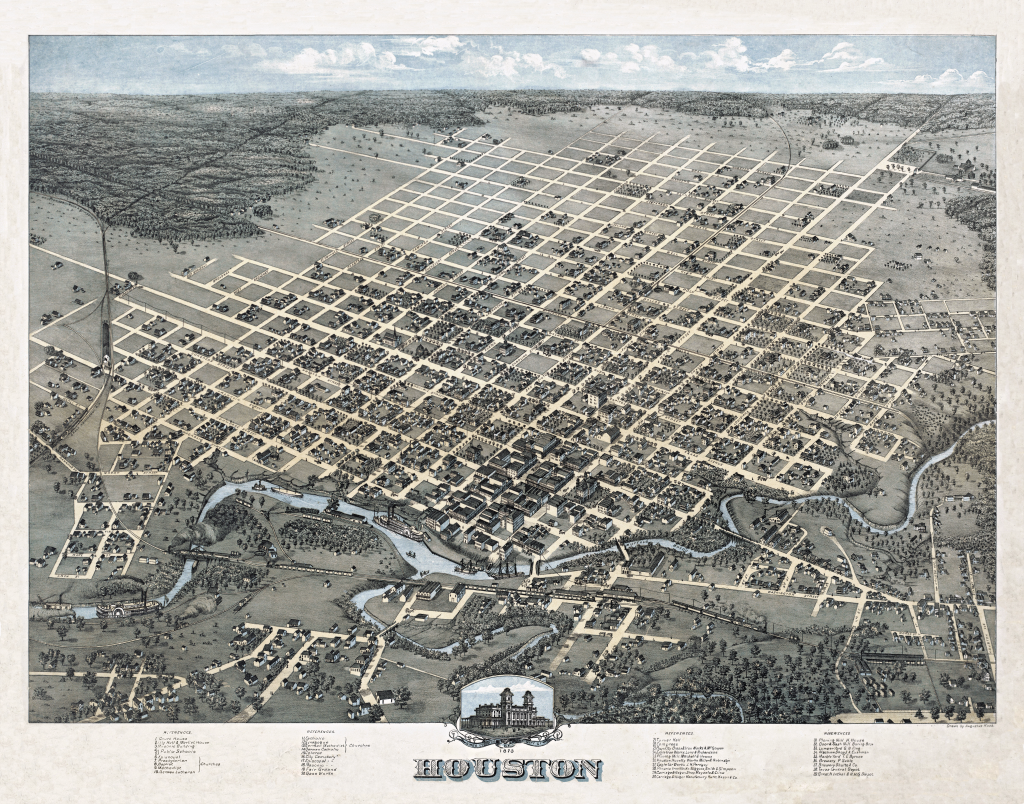 Here is Houston in 1873, population: about 11,000. It would double in the next decade.

What you see is the Houston of saloons, gamblers, and dirt streets. During dry periods, the city fathers paid Old Man Bissonnet to wet the streets with barrels of bayou water to keep the dust down.

It is also the Houston of Reconstruction military rule. Most people were just trying to put the war behind them and rebuild their lives.

Doing that meant building a better Houston. More railroads. running water, and gas lighting.

The biggest gullies in what is now downtown had been filled in the name of progress, but a few were still there, and artesian springs still flowed clean and clear into Buffalo Bayou, making fine swimming holes for the youngsters.

Though the ship channel was still forty years away, shallow draft vessels could already bring their cargoes up from Gulf right to the foot of Main Street.

So Many Great Details


If your ancestors were in Houston in 1873, and you know their address, you will be able to pick out your ancestral home on this map. The artist, Augustus Koch, was that committed to detail.

Back then birds-eye views like this were hugely popular. (You can see why.) But artists capable of creating them were rare.

India ink, a fine steel nib, and a mind that could see things from angles the eye could not. That's what it took to create a fine birds-eye view and Mr. Koch had the trifecta.

In 1873 he wandered every street and alley, making hundreds of sketches on the ground. Then he returned to his drawing board to move the perspective skyward and assemble the mass of drawings into what you see here.

It's a feast for the eyes. There's just so much here for them to take in.

You may be wondering why the view is looking South. That gives you insight into how people back then conceived of the city.
Buffalo Bayou was the life of Houston. It was how people and goods arrived from the outside world. It was how Texas cotton made it's way to the great textile mills of the North and Europe.
If you arrived on a steam packet, you would disembark at the foot of Main Street, you would climb the south bank and find the City of Houston spread out before you.
Measures 30 by 24 inches.

And there are only 254 copies in the limited edition. That's one for each county in Texas.
Some close-up views from 1873: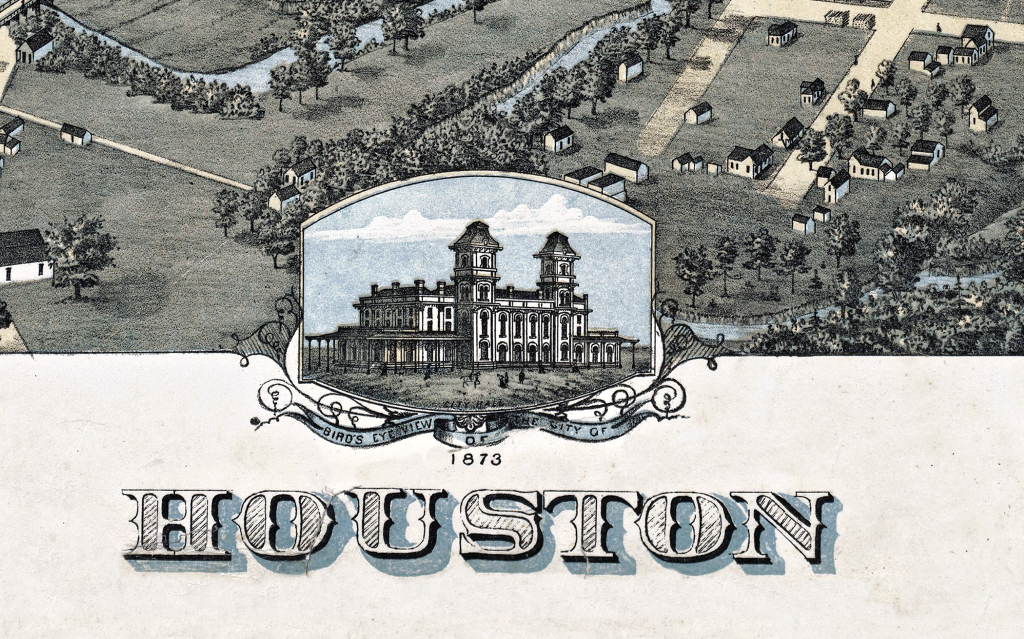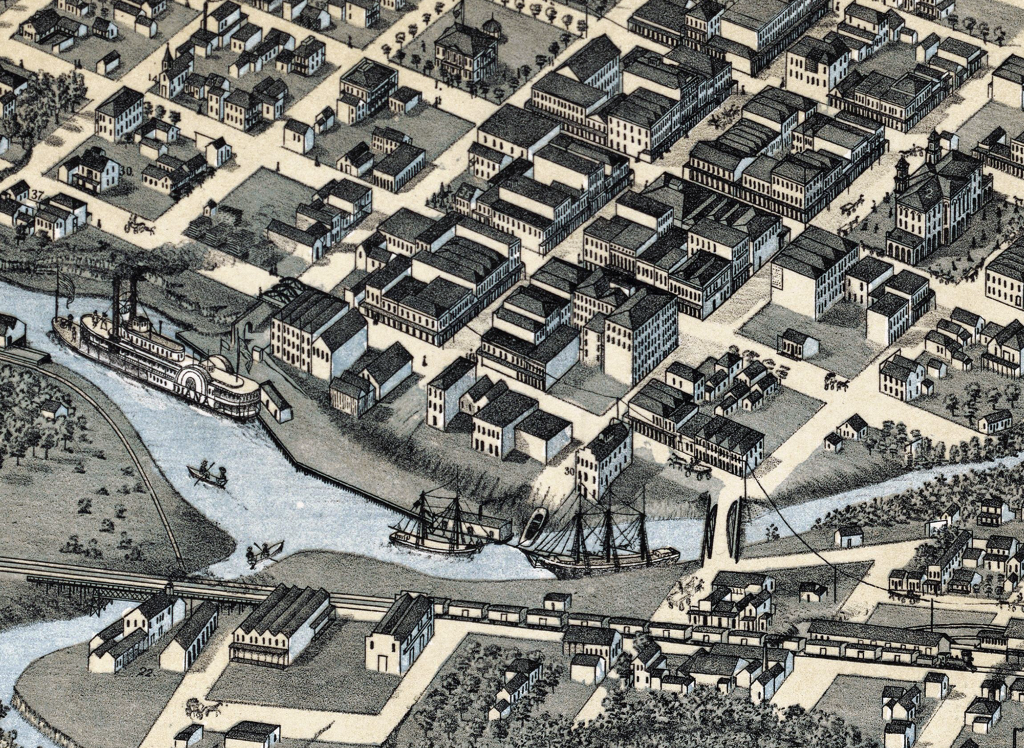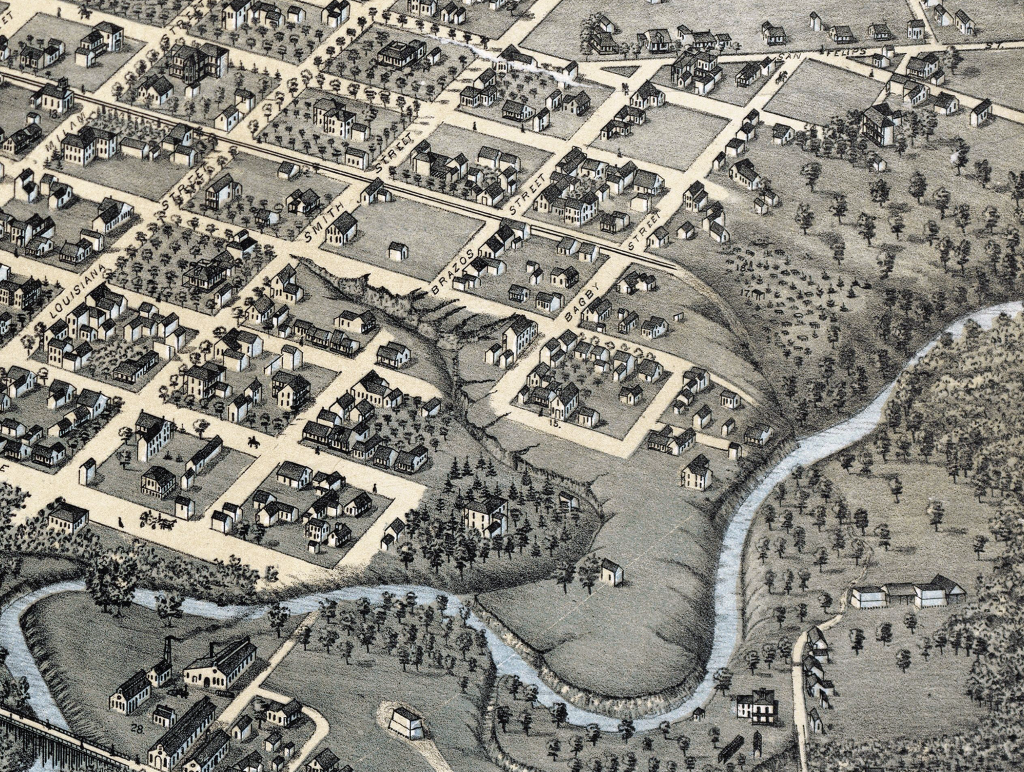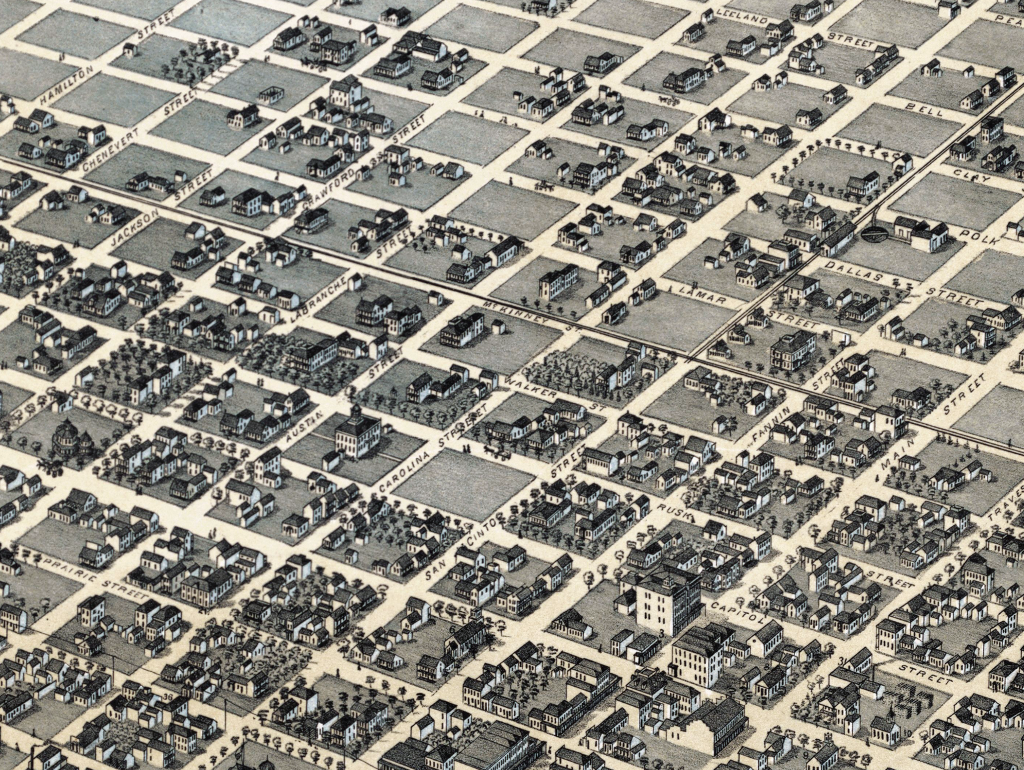 Get your copy of this great map at a very special price...
(Special offer ends soon)
30 by 24 inches
Limited Edition of 254 Copies
Each one is hand-numbered
This is a high quality fine-art print.

The paper is acid free, cold press cotton watercolor with an elegant ever so lightly textured finish. This surface allows the inks to 'bite', reproducing the shading and tonality of the original map vividly, beautifully, and exactly.

The inks are guaranteed color-fast for 80 years, which means you won't need to lay out the extra money for UV glass. You can hang your map in direct sun and it will be just as bright when they are passed on to the next generation it is the day it ships.

It's an instant heirloom. Get yours before they're gone...and get one to give to a friend. He'll owe you!
Shipping is $5 for this item.
Ships within 3 business days.
Ships in a sturdy tube.
Guarantee: If you don't love it, we will buy it back. No time limit.