True Stories of Old Houston and Houstonians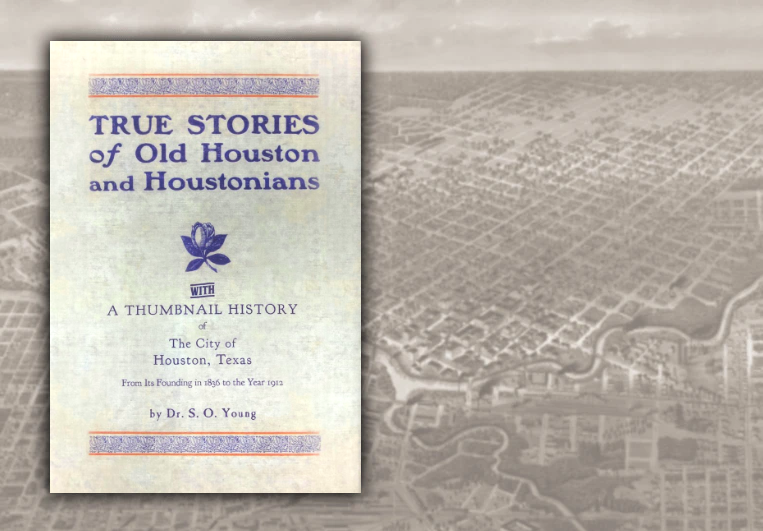 "Houston's past is alive in these pages..."

True Stories of Old Houston and Houstonians (originally published in 1913) contains 105 stories of Houston's history written by Dr. Young for his column in the Houston Chronicle. This is history at its most entertaining. He brings early Houstonians to life, describing their personalities, their admirable traits and their many eccentricities. His stories of boyhood in Houston read like something out of Tom Sawyer.

"Makes Houston seem like an old friend..."

There are also stories of early citizens and their day-to-day lives. Of the Civil War and Houston's fighting men. Of slaves and former slaves. Of rigged elections and reconstruction days. He gives vivid descriptions of Houston's many saloons and gambling dens. You'll read about what a mischievous undertaker did with the Yankee dead during a Yellow Fever epidemic. About the superstitions of the day, about ghosts and haunted houses. There are stories of gentlemen and of scoundrels, of hangings and jail breaks. Even a little cross dressing.

This is a book you will be glad you have in your family library. It will become an heirloom that you share with your kids and grand kids. If you disagree, we will happily take it back, so place your order today. You may also want to get the kids/grandkids their own copies, because if you loan it out, you may have to threaten them to get it back.


ABOUT THE AUTHOR


Samuel Oliver Young, Jr. (1848-1926) grew up among San Jacinto veterans and the prominent citizens of early Houston. He was born just two months after the death of his father, Dr. S. O. Young, Sr., in one of Houston's many Yellow Fever epidemics.

He was reared by his mother, Maud Jennie Young, in the household of her parents. Maud Jennie Young seems to have been set on raising her son to be a carbon copy of his father, giving him the same name and pushing him to become a physician. He dutifully practiced that profession from 1870 until her death in 1882.

At that time he abandoned medicine to become a newspaperman, first as business manager of the original Houston Post which promptly collapsed. He then founded the Houston Morning Chronicle, which through the course several mergers and buy-outs became the modern Houston Post which ran until 1995. His later years were spent writing for the Chronicle that we know today.

Newspapers in the 19th century sprang up like mushrooms and died just as quickly. They served as the Internet of that age. What Dr. Young did was a bit like leaving medicine to start a blog. People probably scratched their heads.

S. O. Young served in the Civil War, enlisting at the age of fifteen in Company A of the Fifth Texas Infantry (Bayou City Guards), Hood's Texas Brigade. His mother sewed the Brigade's battle flag, which now resides the the Texas State Archives.

Dr. Young is also notable for how he survived the 1900 Galveston Storm. He was Secretary of the Galveston Cotton Exchange at the time and was determined to ride out the storm in his house. The storm destroyed the house leaving Dr. Young to surf across the island on his front door! Anyone who has read the book, Isaac's Storm, or seen the History Channel documentary of the same name, is familiar with Dr. Young's story.


BONUS - Two Books in One


This volume also contains Dr. Young's other book: A Thumbnail History of the City of Houston, Texas (originally published in 1912.) It's probably the best basic text written on Houston's early history.


Originally written to debunk myths that had been floated about Houston's founding and earliest years, it is now considered a must-have book for collectors of Houston history. Nearly all later works on Houston cite Dr. Young's excellent work. Go peek at the bibliographies of more recent books and see for yourself.

It covers the city's founding, the early mayors, Civil War and Reconstruction. There are sections on early buildings, bridges, the development of railroads and fire companies. It covers Houston's early physicians and lawyers, the many, many newspapers, and the first banks.


There is much on Houston's military history, its sawmills and cotton industry. Read about early literary efforts in Houston, the Lyceum, Carnegie Library, and the founding of the Rice Institute. Want to know about about early labor unions? The first telegraphs? About how the telephone and electric lighting came to town? It's all here.


True Stories of Old Houston and Houstonians with A Thumbnail History of the City of Houston, Texas From Its Founding in 1836 to the Year 1912 by Dr. S. O. Young
Standard Edition Hardcover
Satin Finish Jacket
415 pages
Shipping is just $5 no matter how many you order.
Ships within 3 business days.
Ships in a sturdy box, not a cheap book mailer.
Guarantee: If you don't love it, we will buy it back. No time limit.